A look back on 2019 so far
28th June 2019
As we reach the year's halfway point, we've looked back at what we've done so far and what an amazing and fun-filled year it's been!
So, let's see what we've been up to…
January
To start the year the right way and banish those January blues, we gave you the chance to WIN a lovely box of ABI chocolates.
February
February was a memorable time for us as we attended our annual exhibit at the Caravan, Camping & Motorhome Show at the NEC and the Scottish Caravan, Motorhome &Holiday Home show in Glasgow to showcase our 2019 Collection.
Were you there? We'd love to hear all about it.
March
We began our Star in Our Next Brochure campaign in March, our goal was to capture everything that's truly fantastic about all of our owners' ABI lives and the entries we received did this and more.
We can't wait to reveal the final shots that made their way into our upcoming brochure – make sure to look out for your photo in the 2020 brochure!
April
Our first Holiday Drone Delivery took place in April. The result of months of research and development as well as close collaboration with our parks – ABI Holiday Drone Delivery brought further efficiency in delivering your new ABI faster.
April Fools! We tricked you in April with our Drone Delivery, but we can promise when your ABI holiday home arrives it will be a day to remember.
Additionally, in April we launched our Easter giveaway. Congratulations to everyone who entered and the 13 lucky winners who received a personalised Thornton's Easter Egg.
Another lovely addition to April was being able to share the news that Northcott School in Hull had a new Sunshine Coach enabling them to plan trips knowing that pupils' wheelchair access was completely taken care of. ABI were proud co-sponsors of this great cause.
May
May was an amazing month for us as we announced that we were the first holiday home manufacturer in the UK to recognise the importance of rewarding our employees for the work they do by becoming an accredited Living Wage Employer!
Also in May, we revealed our ABI 2018 Survey Result Highlights and we were thrilled by the fact 90% of ABI owners who own a dog bring them along for the trip – meaning the whole family gets to join in the fun!
In the spirit of spring our Decks in Bloom Competition gave many of you the chance to exercise those green fingers over the long weekends throughout the month. We received some beautiful pictures from the entries. Well done to all who entered!
June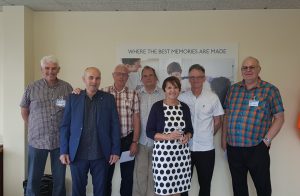 We were delighted to be able to celebrate our workforce's achievement again in June when we welcomed back our Class of 2018 retirees to thank them for their service at ABI.
Together they have a combined service of 175 years at ABI.
Another great event for us this year was The World of Park & Leisure Homes Show – we brought along our ABI luxury holiday lodge showstopper, The Harrogate.
Wow! We've had an incredible year so far – but we're not stopping there, there' so much more in store with our summer competition in July AND 2020 Collection launch in September. Keep an eye out for upcoming competitions and announcements on our social channels Facebook, Twitter and Instagram.
From all of us at ABI, enjoy the rest of the year!