National Apprenticeship Week 2021 aims to shine a light on the amazing work being done by apprentices and employers across the country. That's why we want to take this opportunity to celebrate our apprenticeship scheme here at ABI and showcase how people have personally benefited from the course.
We have employed many amazing apprentices over the years and are extremely proud to have acted as a springboard for a range of career journeys.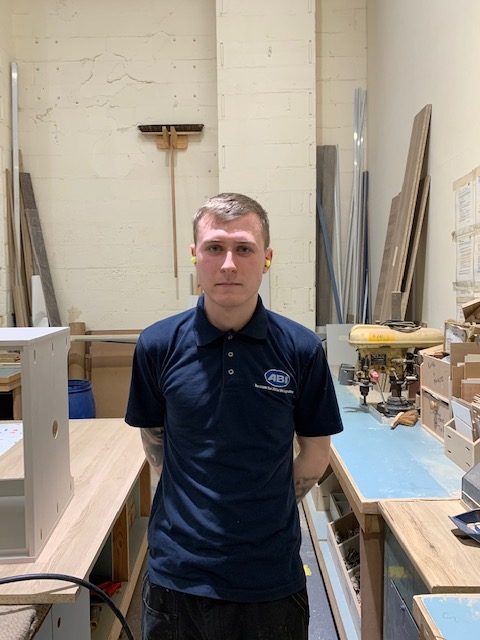 Apprenticeship training means one to one coaching to fully understand the process and the high level of industry standard we operate. At ABI, we have a real appreciation for every millimetre of manufacturing. This undivided attention to detail is passed down from the employees with years of experience to the people just starting out. Our apprentices understand our devotion to design and strive for this perfection through the support of their colleagues.
Our scheme not only offers practical experience but also social skills that apprentices can carry with them throughout their whole working lives. It will teach them how to behave in a factory environment and accomplish tasks independently whilst using their initiative. In turn, this will build self-confidence and a maturity that can't be taught in a classroom.
Support is key when it comes to apprenticeships and we offer a very hands-on approach. Each apprentice is appointed a Line Manager to work alongside and they are open to any queries or requests. This creates a unique working relationship where the Line Manager can share their expertise with the next generation of aspiring manufacturers.
We are always eager to inspire our apprentices about what the future holds for them. Of course, we would love that to be carrying on growing and learning at our company. This is also reciprocated as many see themselves pursuing a career at ABI years down the line with the prospect of working their way up the career ladder.
Now it's time to introduce you to one of our fantastic apprentices that has worked with us for almost 3 years! Tom has gained valuable experience in a range of different areas within our factory. He's kindly shared his schedule from the moment he clocks in right up to finishing for the day to give you an insight into what's it's like to be an ABI apprentice:
6:30am – Up bright and early and clocking into the factory
6:30am – Safety first! Manufacturing glasses and ear plugs before starting any work
6:45am – Finish off any jobs that I couldn't get round to from the day before
7:30am – Get cracking on my area for that day, today is exteriors so I'll be helping the team on the manufacturing line
9:15am – Time for a cuppa
9:30am – Back to work in exteriors and crafting the holiday homes
11:30am – Chicken sandwich for lunch
12:10pm – Get back to the tasks I've been set from the morning and continuing working on them throughout the day
14:30pm – Another tea break
14:45pm – Back to work
17:00pm – Home time!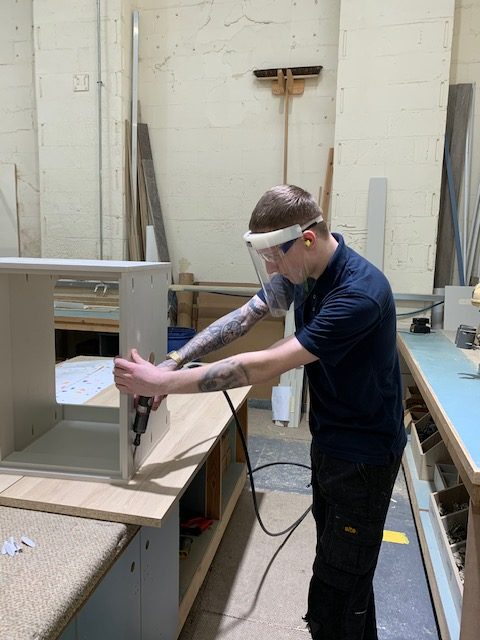 Tom making a piece of furniture
Safety is really important when working alongside manufacturing machines and it's essential to stay protected in the factory. All apprentices are trained on this and there are also new measures put in place to be COVID-19 safe of course, like social distancing, face visors, sanitising stations, etc.
Those that apply to the scheme get to learn about all aspects of the factory. ABI apprentices are moved around so that they gain new experiences in different areas doing a variety of jobs. Keep up the good work guys!
Keep up to date with more behind the scenes at ABI on our Facebook, Instagram and Twitter.