The grandest of escapes
One of life's greatest luxuries is savouring a rare moment of total contentment. With The Harrogate, you'll find that kind of peace and tranquillity in abundance.
From master suite to living room, this lodge is the greatest of escapes. Its lofty proportions, luxurious finishes, as well as wonderfully thoughtful and exquisite details, make it an exceptional place to escape to.
Unwind in complete comfort
Timeless elegance, perfect tranquility
Luxury Relaxation
From the moment you arrive, the luxury of this lodge will enrich every moment of relaxation. Stretch out on the sofa and lose track of time totally, as you let the view out of those grand windows envelop and captivate you.
Liberate a perfectly cool, crisp white from the wine cooler and contemplate the day over dinner at the table, or out on the deck. Enjoy the richest of relaxation in this very special sanctuary.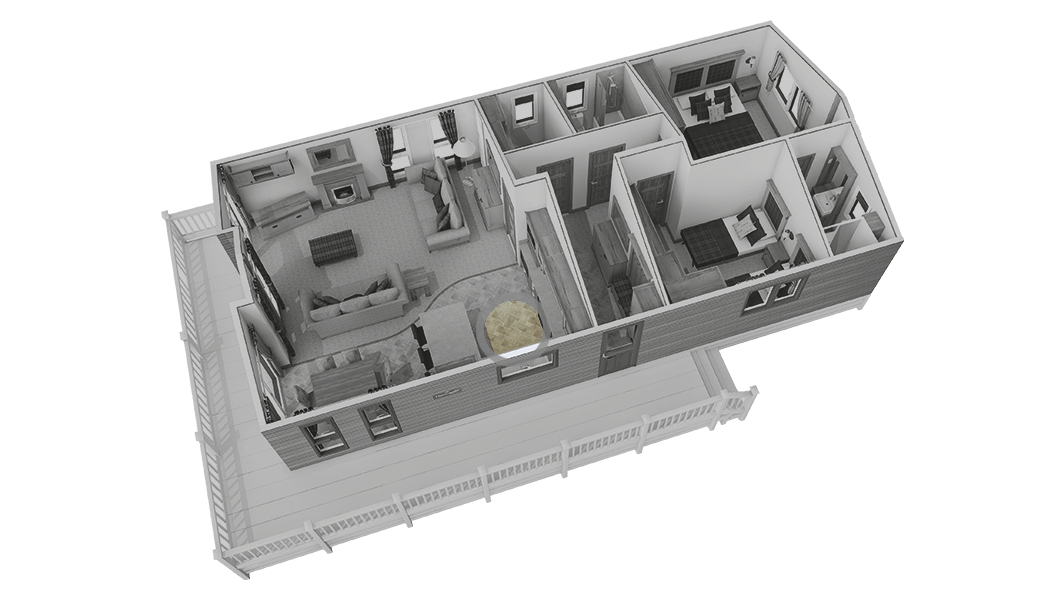 Residential specification BS3632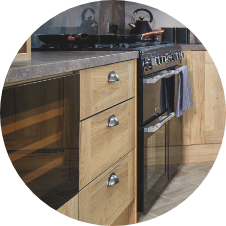 Range cooker
Rooflight window in kitchen
Contemporary radiators in lounge and master bedroom
Floor standing lamp in lounge
Deluxe vanity unit in both bedrooms
Bedside wall lights
Let the light and air stream in through those generous patio doors and grand windows.
Savour indulgent dinners with course after delicious course dished up at the dining table.
As day turns into night, slink away to the sumptuous serenity of the master suite.
Peace of Mind
The level of care, craftsmanship and attention to detail that goes into each holiday home we build is something we pride ourselves upon.
That's why we insist on providing warranties that offer unrivalled protection because, in the unlikely event that something does go wrong, both our reputation for quality and our commitment to you are our priority. It's this combination of uncompromising quality, stringent checks and customer-focused care that has seen us become the UK's best-loved holiday home manufacturer, giving you complete peace of mind from start to finish. From the moment you take ownership of your ABI, everything inside is covered by a 12-month parts and labour warranty as standard. But it doesn't end there…
3 Year Warranty*
After the first year, you'll enjoy a further 24 months' cover on:
Furniture manufactured and fitted by us
Shower cubicle, topper and door
Taps, sanitaryware and baths
Radiators, internal doors and door handles
Gutters, downpipes and cladding
Sockets and switches
Kitchen sink
Dining table and chair
5 Year Warranty*
After the first year, you'll enjoy an extra 48 months' structural warranty on:
Chassis, roof, walls, ceiling, floors and external windows and doors
10 Year Warranty*
In addition to all this, fully galvanised heavy-duty chassis systems are covered by a full 10-year warranty from the date of purchase.
*Terms, conditions and exclusions apply. Please refer to the ABI Warranty booklet supplied with your ABI Holiday Home.
S

Standard

O

Optional

X

Not Available
Technical Details
The Harrogate
41' x 20'

2 bed

42' x 20'

3 bed

Exterior

Fully galvanised heavy duty chassis
X
X
Chateaux Grey hard PVCu cladding
X
X
Front patio doors
X
X
White 'Low E' PVCu Thermaglass double glazing
X
X
Residential specification BS3632
X
X
Exterior lights including canopy lighting
X
X
Externally vented powered cooker hood
X
X
Satellite co-ax
X
X
CanExel™ exterior cladding
X
X
Floorplans
The Harrogate
41ft x 20ft x 2 Bedroom

42ft x 20ft x 3 Bedroom
The Harrogate from £131,368.99
| | |
| --- | --- |
| 41' x 20' / 2 bedroom | £131,368.99 |
| 42' x 20' / 3 bedroom | £133,289.50 |
The above price is inclusive of VAT. There are a number of factors which will determine the overall cost of your Holiday Lodge, including the location of the park and the type of plot. Please speak to your chosen park or dealership for further information.
Enquire about The Harrogate