Warming Autumn Recipes to Enjoy in your ABI
13th November 2019
Autumn has well and truly arrived and what better way to spend these crisp evenings than enjoying a wonderfully warming home-cooked meal in your ABI?
During the colder months nothing beats a cosy night in. Whether it's some quality family time, a catch-up with old friends or an evening of romance, we've got just the meals to keep you (and everyone else) happy!
Your ABI kitchen is the perfect space filled with endless possibilities when it comes to cooking. Being well-equipped and with an externally vented, powered cooker-hood, there's no doubt you can cook up a feast. So, let's get started!
Pumpkin soup
There are not many things in life a bowl of creamy soup can't solve. And even better, pumpkin soup. Those leftover pumpkins from Halloween should go somewhere worthwhile, right? You can create this delicious meal quickly and effortlessly with only really needing a few things; pumpkin (or squash!), double cream, onions and stock of your choice. A side of sourdough bread and, voila! The perfect autumn meal in your ABI.
Even though we know this recipe is fantastically easy, BBC Good Food have just the recipe for you here.
Shepherd's pie
Nothing screams comfort food like a good ol' shepherds pie, especially in the comfort of your ABI. You can create this hearty meal for the whole family to enjoy – with leftovers. It's beauty really lies in its simplicity and, with its crusty edges and side of veggies, life really can't get much better. And a little trick for you, for an extra crispy finish just sprinkle some cheese before popping it in the grill for a few extra minutes!
We love this Jamie Oliver recipe – it's a classic!
Mac and Cheese
You can never really go wrong with Mac and Cheese, right? I mean… it's cheesy. Use cheddar, parmesan, cheshire, lancashire – the lot. Whether you have it with toppings, as a side, or on its own, it's definitely a crowd pleaser as well as an extremely versatile dish. The perfect meal to enjoy with family and friends in your ABI.
Note: we definitely think grilled chicken wins best topping!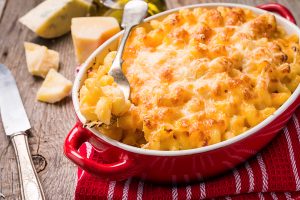 Follow this recipe to make this cheesy plate of heaven.
Chicken Tikka Masala
The Chicken Tikka Masala is the most popular curry in Britain today, so we bet you'd love to give it a try in your ABI. This is a much loved recipe that envelopes all the perfect flavours for a toasty autumn evening. With a dash of garlic, cumin, coriander and ginger you can easily create this mouth-watering dish that you sure will be making again.
And don't forget the naan!
Find a tasty recipe from Tasty here
Apple Crumble
Last but not least – apple crumble. Because nobody ever grumbles about crumble. This is the perfect dessert to devour after a chilly day, enjoyed sat around the sofas of your ABI. This is sure to go down a treat with the little ones – who you can even get to help out in the kitchen! We're sure they won't complain…
There's no one better than Mary Berry to show you how to make a good crumble.
With so many delicious autumn dishes to choose from, there must always be a favourite! What do you and your family enjoy cooking the most in your ABI? Let us know on our Facebook, Twitter or Instagram and if you try any of these recipes, please tag us!