Having been luxury Holiday Home manufacturers for 50 years, we know better than anyone that there's no place like a home away from home. That's why we meticulously craft every millimetre of our holiday homes, combining high quality materials with true expertise; because the little things matter.
Welcome to the 2022 collection. 12 holiday homes, 2 luxury lodges and a whole lot of care and craft. Are you ready to enjoy every bit of the ABI life?
Introducing our Holiday Homes
A glorious open plan kitchen and living space coupled with a bright and light atmosphere makes for an utterly refreshing escape. The Coworth is a spacious family home with eight different models available to choose from, depending on your needs. Regardless of the model that you choose, you will never be short of space to relax together.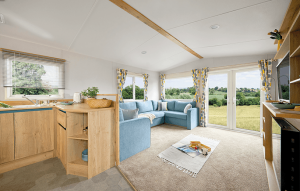 This brand new holiday home boasts traditional comfort with a twist. You'll discover more delicate touches every day, from pleasing pendant light fixtures to subtle design flourishes that have been carefully thought out over several months. The warm, nature-inspired accents provide the ultimate stylish home comfort.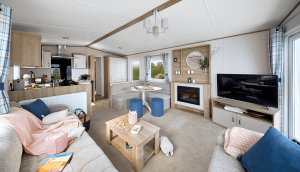 Striking the perfect balance between quaint and contemporary, The Wimbledon oozes a certain period charm. A brand new centre lounge option has been added for 2022 which truly makes the sitting room the heart of the holiday home.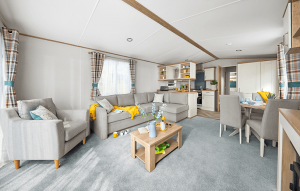 Sail off on a seaside escape wherever you are. Let nautical hues as fresh as the sea breeze and driftwood-esque touches carry you away on an utterly relaxing, ocean-inspired escape. The Beachcomber is uniquely designed to bring the coast to you.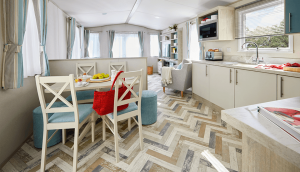 The simple pleasures of a comfy hideaway delicately blended with a classic country cottage style. Once you've fallen in love with the farmhouse feel of this en-suite holiday home, the only thing left to consider is whether you'd like a model with 2 or 3 bedrooms.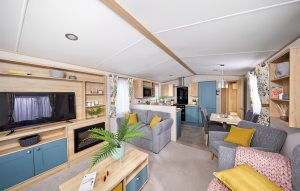 Live the urban dream in this sleek and modern haven of a holiday home. Matt black finishes highlight the contrasting wood surfaces to accomplish an effortless designer look. Free standing sofas, dining tables and chairs make The Beverley truly customisable.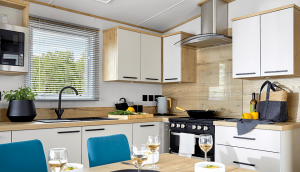 Designed with accessibility in mind, The Derwent delivers quality escapism for everyone. A spacious layout, wider entrances and lowered worktops are coupled with stylish scatter cushions and a cosy electric fire so you can extend a warm welcome to your guests. Practicality meets tasteful elegance in this beautifully innovative holiday home.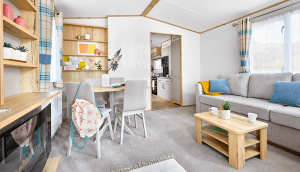 This brand new addition to the ABI collection boasts a fabulous, fresh layout and provides a space that is truly unique. An inviting entrance way opens up into a breakfast bar within the open plan kitchen and living space.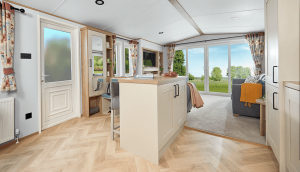 Lose yourself in Scandi style in The Langdale. This holiday home blends a soft, simple colour mix, barely-there cupboard handles and statement wood-burner style fireplace to create a cosy cabin feel. All of this sleek style, available in your choice of two or three bedrooms.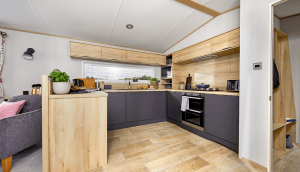 With grand proportions throughout and a kitchen that ties the whole home together, The Ambleside is a little taste of perfection. If eating well and entertaining is your passion, you will be right at home with a professional five-burner stove and heaps of storage.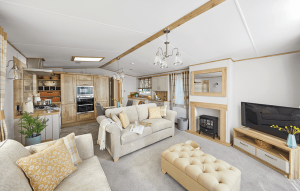 Pamper yourself in style. With an invigorating rainfall shower and spacious separate bath, The Beaumont offers a luxurious spa-like retreat. Handy mod cons are spread throughout this holiday home and the Shaker-inspired kitchen is thoroughly stylish. The whole experience is designed to take your breath away.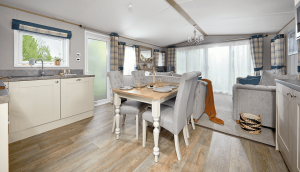 Style, substance, space, The Westwood's got it all. Striking wood feature walls, wine cooler and built-in wireless charging leave little luxuries to be desired. This holiday home is beautifully crafted for uniquely relaxing breaks. There's nothing else quite like it.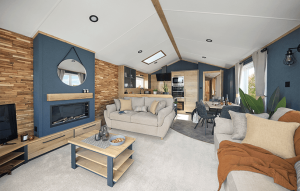 Introducing our Lodges
The epitome of modern bliss. The Kielder, with all the mod cons you need and its open plan living space, is every inch the contemporary escape. Sink into sumptuous sofas and take in views of the great outdoors through those expansive windows or rustle up masterful dinners in the expertly equipped kitchen. Leave it all behind, without missing any of your creature comforts.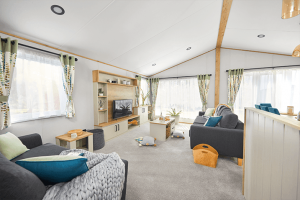 The grandest of escapes. Lofty proportions, luxurious finishes and wonderfully thoughtful details make The Harrogate an exceptional place to unwind in complete comfort. Timeless elegance meets perfect tranquility and allows you to enjoy the richest of relaxation in this special sanctuary. Savour a rare moment of total contentment.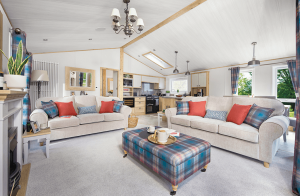 Make the most of a Great British holiday. Unwind beside the seaside. Amble from hill to beer garden. Enjoy bike rides, barbecues and chocolate-box villages. With all this and more just beyond an ABI's door, we'll help make your holiday special, no matter what.
Our full 2022 collection is available to browse online today, along with the simple steps you take to become an owner. The ABI life is waiting to welcome you; what are you waiting for?
Follow us on Facebook, Twitter and Instagram for ABI updates, interior inspiration and more.