Have you ever sat down at your ABI dining table with a nice cup of tea and wondered where the stylish, yet homely design for your 'home from home' came from? Where did the design ideas originate, who created them and what were they inspired by?
We've been speaking to Clair, a member of the ABI design team, who has given us some insight into just that.
Clair has been with ABI for the past two and a half years and has worked across a wide range of design projects during that time. Being part of the design department involves many aspects; from the designing and development of initial concepts and layouts, to looking at the styling and the colour schemes. Clair and the team create mood boards to communicate these design concepts and source the products and materials. The variety of work that being an interior designer for ABI involves is one of the things that Clair loves the most about her job.
Let's learn some more about what inspired Clair to pursue design with ABI…
What drew you to interior design in the first place?
"I've always wanted to work in a creative field, but also wanted a career that offered a technical and spatial skill set." Being a designer is ideal for individuals who are passionate about design and creativity, while also wanting to work on practical projects that you can really see come to life.
What attracted you to work at ABI?
Clair visited one of our dealerships to see first hand the design and workmanship of our products. Clair told us that she was most "impressed with the range of holiday homes" available at ABI which was the push she needed to apply and shortly after, she became a very valuable member of the ABI design team.
The scope of work as a designer at ABI is really wide ranging. Clair told us that one of the highlights of her job is "dressing and propping the holiday homes for Trade Shows and Exhibitions".
It's also a wonderful place for "meeting suppliers and attending design-led exhibitions, to gain inspiration and to source new products and materials".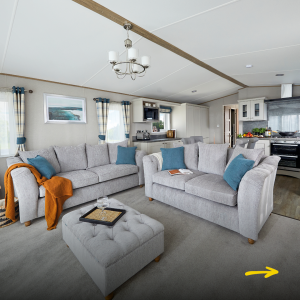 Is ABI owners' feedback valued and factored into your future designs?
Of course! Whether positive or negative, all customer feedback is very important to us. Clair further explained that "we take notes of suggestions and if it is feasible it will be taken into consideration when we are working on new developments or altering".
We're always wanting to ensure that our holiday homes are not only stylish and well designed, but are practical for our ABI home owners' needs.
What is your vision for the interior design of ABI holiday homes?
It is important that the "attention to detail, craftsmanship and creativity remains at the forefront in all we do", Clair explains. Especially now, with more focus on sustainability, "focusing on trend identification and making sustainable choices" is extremely important.
What is the simplest way to update the interior of your holiday home?
The question we've all been waiting for…
Considering different colour schemes and fabrics is a great starting point. As Clair mentions, "the easiest way to make interior changes is by the use of colour and fabrics", which can be as simple as upgrading the colour scheme and fabrics of your cushions. It is incredible that just by changing the colour, texture or print you can totally change the appearance of a holiday home.
This is the perfect excuse to change your curtains, upholstery or cushions. What are you changing first?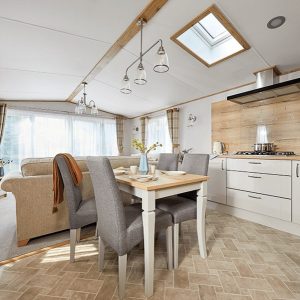 What sets ABI interiors apart from other holiday home designs?
Not to be biased, but we are one of the greatest manufacturers out there due to "our craftsmanship, quality, design and layout". As mentioned previously, our ABI owners' feedback is really valued and therefore our interiors are stylish yet practical, and are designed with our customers in mind.
"We have a brilliant relationship with our suppliers, who keep us up to date with their current collections and new trends".
Clair continues to explain the wide range of styles our collections provide, varying from contemporary to traditional holiday homes. Our collections offer options of open plan living, practical separate hallways, as well as statement feature woods, master bedroom suites and stylish dressing rooms, meaning there's something for everyone.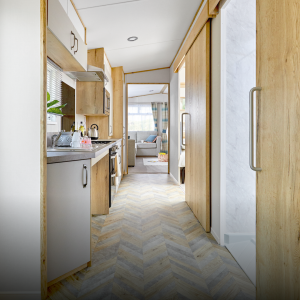 Can you let us into any secrets or teasers for future ABI interior designs?
The future of ABI designs will have to remain a top secret for now, as Clair's response was, "now that would be telling…". We'll be keeping our eyes peeled for what's to come next in the future of ABI designs.
So much goes behind the creation of your wonderful ABIs. Did you enjoy finding out more about the process?
Let us know and share any of your design ideas on our Facebook, Instagram, or Twitter.
New to ABI and considering buying a holiday home? Check out our wide collection of ABI holiday homes and see the beautiful designs for yourself http://www.abiuk.co.uk/our-collection