Now that November is drawing to a close, the nights are dark and the mornings frosty. This is the perfect season to make the most of long evenings spent in your cosy holiday home and we have some recommendations on how to do just that.
It's All About the Ambience
Banish the cold by creating a warm glow in your holiday home. Our ABIs come equipped with an electric fire or a luxurious Langdale wood burner. The flickering flames will keep you toasty and add to the ambience. 
Add some twinkling fairy flights to your ABI interior and your winter retreat is complete.

Feel Good Food & Drink
It wouldn't be right to settle down for the evening without a decadent drink and dessert. Our ABIs come fully equipped with everything you'd need to try your hand at fondue, cheesecake or tiramisu. For example, The Beaumont boasts 40mm worktops, an integrated oven and separate 5 burner hob so that you can juggle boiling, baking and bain maries all at once.
There's nothing that a good cuppa or rich hot chocolate couldn't improve and we're also partial to an after-dinner tipple. After all, you deserve it! 

Try a New Talent
Once you're settled down on the sofa, one of our personal favourite things to do is try out a new hobby. Whether it's picking up a new puzzle book and finally conquering the crossword or learning to knit, embroider or sew, trying something different is great. It keeps both the mind and hands busy and makes you feel productive and proud whilst you're just relaxing!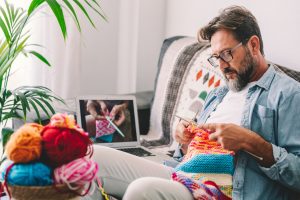 Are you envisaging your ABI in a whole new light? We'd love to see how you create the perfect winter retreat and the new talents you try! Be sure to share your photos on Facebook, Twitter or Instagram and you may find yourself featured on our page…