Since we didn't get to celebrate Halloween properly last year, we want to make 2021 spooktacular! No matter whether you're 8 or 80, we have plenty of ways to celebrate the spooky season…
Pumpkin Carving
Carving pumpkins is a classic Halloween tradition. This originated from the belief that the spooky faces carved into pumpkins would ward off evil spirits. Nowadays, pumpkin carving has been taken up a notch. We see more crazy and creative pumpkin designs every year! Why not challenge your holiday park neighbours to a contest? Carved pumpkins will make the perfect Halloween display for your decking.
Here are some carvings to try this Halloween:
Your favourite cartoon character

Your ABI holiday home

Your pet!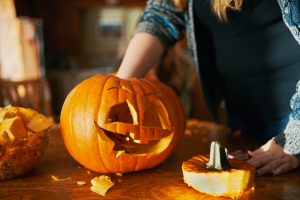 Devilish Decorations & Creepy Crafts
If you're at a loose end, especially if you have little ones on half term holidays, decorating can provide a great few hours of entertainment. With some simple supplies, you could make your own paper plate pumpkins, pom pom spiders and flying bats to hang from the ceiling! Draping cobwebs across your decking, coupled with your carved pumpkins, would also be guaranteed to spook any trick or treaters…
Halloween Wreaths
Crafting a seasonal wreath from scratch has been an increasingly popular activity during the last few years. These also make a wonderful gift if you have a favourite neighbour at your holiday park! You can start the day by foraging for leaves, conkers, berries and any other seasonal foliage that catches your eye. Just make sure you have a wire or wicker ring to arrange your supplies around, which can easily be found online and in stores. Incorporate your creepy crafts to add the final touches to your bespoke Halloween wreath.
Freaky Films
You can't go through spooky season without watching a classic horror movie. Once it turns to dusk on the holiday park is the perfect time. No matter what your age or preferred genre, there is a scary film to suit everyone. Get the fire going, draw the curtains and pop the popcorn. You could even wear your costume or invite your ABI neighbours over for the occasion. Just no nightmares, please!
Halloween Baking
I think we can agree that Halloween is all about the sweet treats. From cakes and cookies to tarts and pies, the options are endless! With your fully equipped ABI kitchen, you can go all out with your showstoppers. You could either incorporate autumnal flavours like cinnamon, pumpkin spice and ginger or go all out with the spooky decorations – ghosts, spiders, pumpkins and bats galore.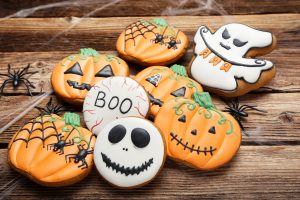 Whatever you get up to this Halloween, we can't wait to see your crafty creations! That's why we're running a giveaway across Facebook, Twitter and Instagram throughout Halloween week. Simply share your fang-tastic photos with us on our giveaway posts across Instagram, Facebook, or Twitter for your chance to win a Fortnum & Mason Wicked Wicker hamper.