The weekend of The Lawns Show has been marked in our calendars for months: it's our first chance to showcase our exciting new collection, and also a great opportunity to meet all of you – our loyal customers!
Following months of careful preparation, the gates to the show opened on Saturday morning. Our stand was set up with all our 2015 holiday homes, which we are proud (and relieved) to say looked great, and went down a storm at the show.
We were joined on our stand by a special guest from Flamborough Holidays; who we'd like to thank for making us laugh, and for entertaining our customers' children!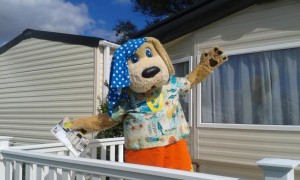 Meeting customers will always be one of the highlights of our job – and hearing your lovely feedback about ABI vans new and old made all our hard work worthwhile!
Last, but definitely not least, the big showstopper at The Lawns was our amazing new concept van, which offered a sneak peek into the future of holiday home design! At just 30×13 the van seats nine and sleeps nine. Keep your eyes peeled for lots of pictures, videos and a blog post over the coming week!
Here's a spoiler if you didn't see it at the show: the walls move!
If you joined us at the show, be sure to let us know what you thought on our Facebook or Twitter!
Now it's time to get back The Lawns for the remaining Trade Days – wish us luck!