For those of you lucky enough to be able to spend Christmas on a holiday park, there's no place like an ABI on Christmas day!
With full sized ovens big enough to fit a turkey, heating and fires to keep you cosy, and room for all the family, once you get the decorations up, you'll find your holiday home filled with Christmas cheer in no time at all!
Our holiday homes are all designed to be stylish and elegant, but when it comes decorating for Christmas we think you can never be too Christmassy! Here are our top five tips to ensure your festive makeover is utterly fantastic!
1. Deck the halls
We all know ABI holiday homes are surprisingly spacious, and when it comes to Christmas, the more the better! Holiday homes are family spaces –and we love decorations that reflect your family – the reindeer bauble your child made at school might not resemble a reindeer, but it's what makes your family Christmas yours!
2. Choose a narrow tree
Narrow trees are a fantastic innovation for saving space – we'd recommend them to everyone, whether they're decorating a holiday home or a domestic house!
3. Make sure all your cards are on display using festive pegs and string!
This simple trick for displaying your cards ensures they're pride of place and the extra high ceilings in an ABI means you can fit even more cards on your walls!
4. If you run out of room inside, and you're lucky enough to have one, decorate the decking!
How does an inflatable Santa on the decking sound? Or maybe an extra tree?
5. Add icicle lights around the roof for a touch of Christmas sparkle!
This is an easy way to ensure your static caravan van is as Christmassy outside as it is inside, and to share the Christmas joy with the rest of the holiday park!
Here's a very festive ABI our Sales Director Dean found on his travels!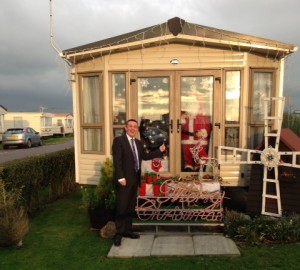 If you're decorating your ABI Holiday Home, send us a picture on Facebook or Twitter and we might feature it here…