The ABI life is all about taking a break from modern life. And what better way to switch off than baking some delicious, sweet treats to share with your loved ones? After all, it isn't Easter if you're not indulging in a years' worth of chocolate in just 4 days!
To help with some inspiration for the long weekend, here are our top 3 Easter baking recipes that you can get cracking with.
Easter Nest Cakes
An egg-cellent treat!
Nothing sums up Easter baking better than the classic that is chocolate Easter Nest Cakes. You can also save the recipe for when you're back at your ABI and use up all the left-over Easter chocolate.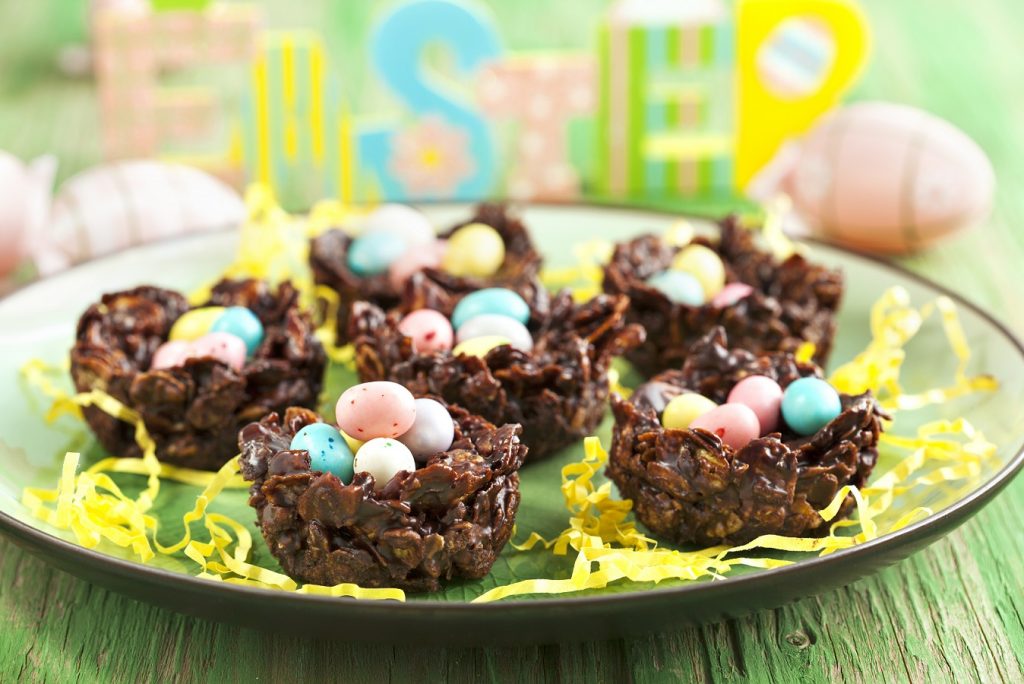 Ingredients:
85g Shredded Wheat/ Rice Krispies/ Cornflakes or one of your favourite cereals, crushed
2 x 100g bags of mini eggs
200g milk chocolate- chopped into pieces
Cupcake cases
Method:
Using a small bowl, melt the chocolate over a ban of simmering water for 2-3 minutes.
Once the chocolate is nicely melted, pour it over your chosen cereal (we recommend Cornflakes) in a large mixing bowl and stir well to combine.
Carefully spoon the mixture into the cupcake cases to make a nest shape.
Decorate the nests with the mini eggs, if there are any other toppings you like feel free to add them! (We've tried bright sprinkles to create a colourful birds nest)
Chill the nests in the fridge for at least 2 hours to let them set.
Tuck in and enjoy!
Spiced Hot Cross Buns
This traditional British Easter recipe originates with the Saxons who settled in Southern England in the 5th and 6th centuries. They ate hot cross buns to honour their goddess Eostre, the namesake of the festival of Easter.
Always a firm favourite, these lightly spiced hot cross buns are super easy to make and this recipe makes 12.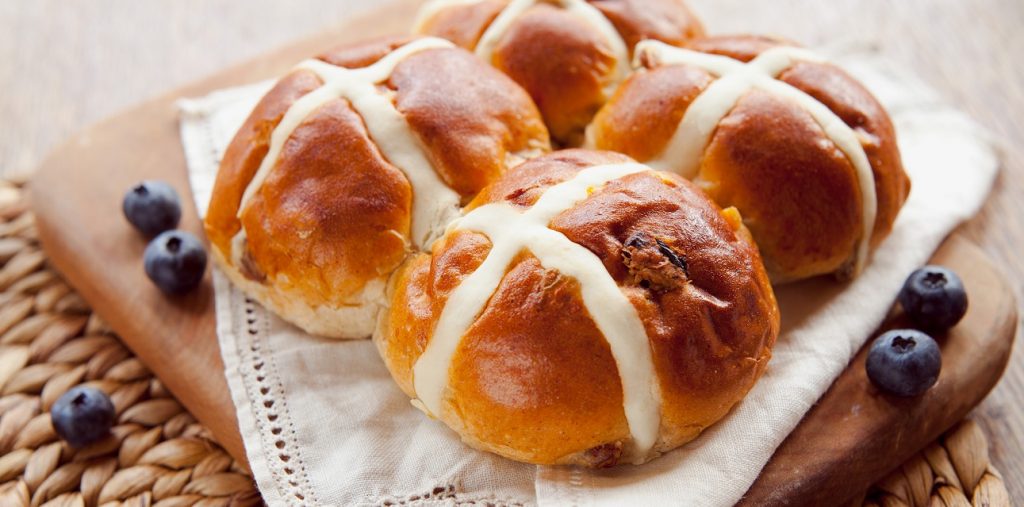 Ingredients:
500g strong white bread flour
65g caster sugar
225ml whole milk
8g dried active yeast
50g unsalted butter
200g raisins
2 medium eggs
½ tsp salt
1 tsp cinnamon
½ tsp Nutmeg
½ tsp ginger
Method:
Heat the milk in a pan until it starts to steam slightly.
In a mixing bowl, combine your salt, cinnamon, ginger, nutmeg, sugar, yeast and flour. Then add in the butter and rub between fingers. Pour in the milk, along with the raising and eggs, then mix together.
Knead the mixture for 5-10 minutes until it is smooth and elastic to touch. Transfer the dough into a bowl, cover, and leave the dough to rise until it has doubled in size. This usually takes 1-2 hours.
Flour your surface and knead the dough lightly. Divide it into 12 even balls and place them onto a lined baking tray. Keep a 1cm gap between each ball.
Leave them to rise while you preheat the oven to 200C/180C fan and prep your baking tray.
Once the oven is preheated, whisk together some flour and water and pipe the crosses on using a piping bag.
Bake in the oven for 20 minutes until they are nice and golden.
Enjoy while slightly hot for added mmms!
Iced Easter Biscuits
A great one to try with the kids, these Easter biscuits are eggs-uisite. It's time to get creative and show off your icing skills!
This recipe makes 18 yummy biscuits that you can hand deliver (socially distanced of course) to show a family member you're thinking of them. It's the little things like this that would make someone's day.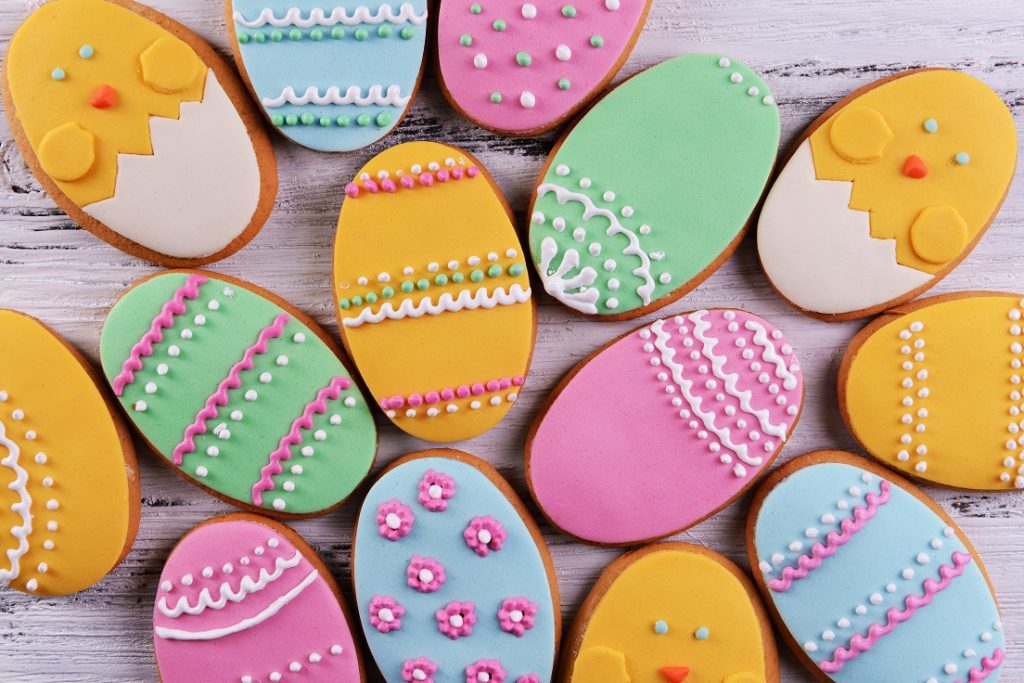 Ingredients:
150g caster sugar
1 large egg
2tsp vanilla extract
300g plain flour
150g slightly salted butter, cubed
For the icing:
500g icing sugar
Food colouring of your choice
Method:
Mix the butter and sugar in a large mixing bowl. Add the butter in and combine using your fingertips. Beat the eggs with the vanilla extract separately and then add to the bowl. Lightly mix.
Knead the dough together. Shape it into a ball and wrap it in clingfilm. Chill for at least 15 minutes.
Heat your oven to 180C/160C fan and line two baking sheets with parchment paper.
Lightly dust your surface with flour. Roll out the dough to the thickness of a pound coin. Using your Easter themed cookie cutters (or any cookie cutter you want!) cut out as many cookies as you can.
Bake in the oven for 12-15 mins.
For the icing: combine the water and sugar, you want the icing to be thick enough that it holds its shape whilst being piped. Divide up the icing and add different food colouring to each.
Decorate the biscuits however you like and leave them to dry for 10 minutes… then tuck in and enjoy!
Baking is the perfect way to spend quality family time together with the added bonus of a yummy treat at the end of it! And before you know it, you'll be back to creating precious memories together at your ABI.
Whatever you get up to this Easter weekend whether you're enjoying time at your ABI or at home, tag us in a photo on our Facebook, Twitter or Instagram.