Renowned for its breath-taking landscapes and rolling green hills, the Emerald Isle has become one of the world's must-see destinations.
In honour of St Patrick's Day, we wanted to celebrate what makes Northern Ireland so special and to do so, take a look at our top 5 greenest sceneries, just in time for your first post-lockdown staycation…
The Causeway Coast and Dunluce Castle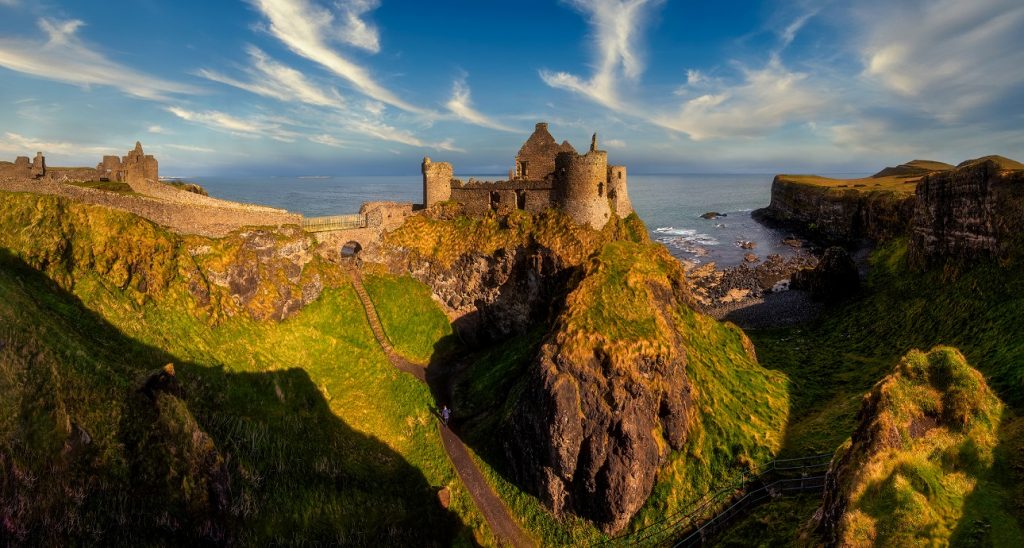 Naturally, the World Heritage Giant's Causeway is the top stop for many first-time visitors of Northern Ireland, and although it should not be missed, you mustn't forget about the magnificent surrounding coastline.
Flanked between the Atlantic Ocean, green fields and rugged cliff faces, the Causeway Coast is one of Ireland's unspoilt landscapes. Standing proud on one of these cliffs is Dunluce Castle, which was left in ruins one night, centuries ago by the wild ocean. It is rumoured the only survivor was a young boy who clung to the windowsill until being rescued… spooky right?
Exterior shots of the castle can also be spotted on Game of Thrones, but that's not surprising given the sheer beauty of the landscape.
Mourne Mountains, County Down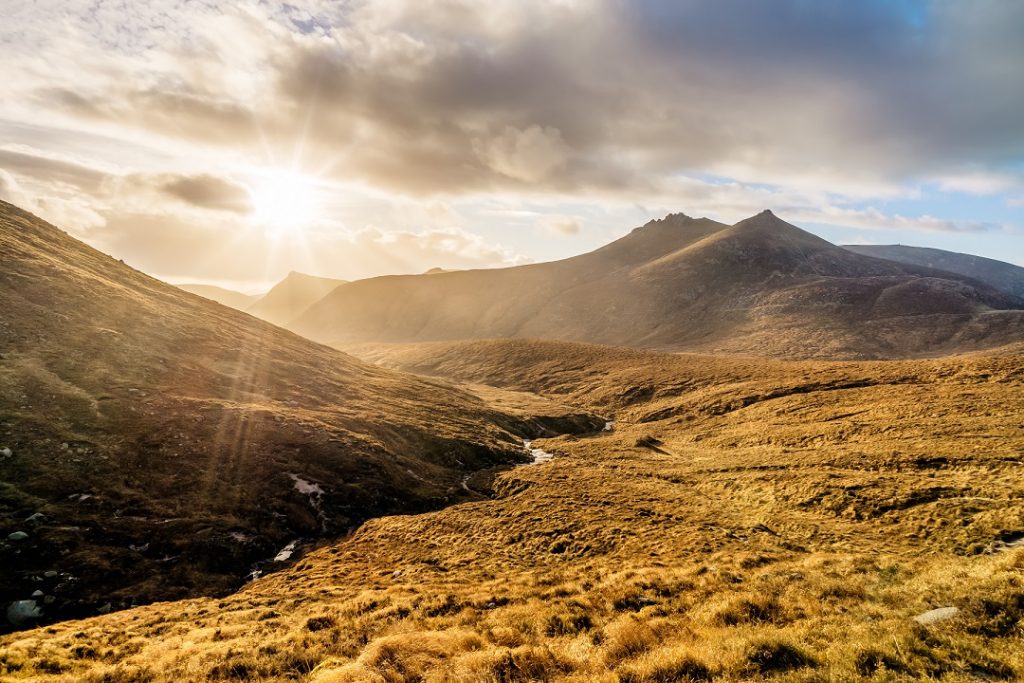 Located in the south-east of Northern Ireland, the Mourne Mountains and their surrounding landscape is unsurprisingly an Area of Outstanding Natural Beauty (AONB).
They are known as the most dramatic and highest mountain range in Northern Ireland, being named the 'Best Walking Destination' in the country, it truly is a hiker's heaven.
There are endless walks to take and landscapes to explore, including the Mourne Wall. Now a famous landmark that runs through the Mournes, it was originally built to keep livestock out of the Silent Valley reservoir. Taking over 18 years to build, it was eventually completed in 1922 after great efforts from many skilled locals. Now, the 8ft stone wall connects the summits of 15 mountains and spans for a total of 22 miles, making a great trail for seasoned hikers.
Carrick-a-Rede Rope Bridge, County Antrim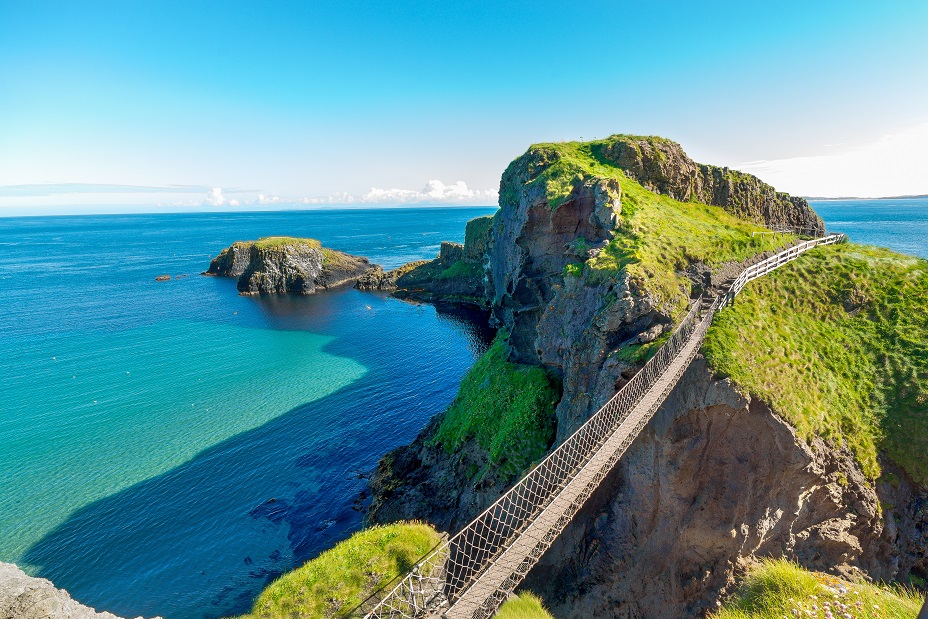 The rope bridge was first erected 250 years ago by fisherman to reduce their reliance on a boat to reach the island of Carrick-a-Rede from the mainland. The bridge is 20 metres long and 30 metres above the rocks and water below, making for quite a dramatic crossing.
Now looked after by the National Trust, it has become a major tourist attraction. By following the coastal trail to the bridge, you have the opportunity to admire stunning views of Rathlin and the Scottish Isles and even spot some interesting wildlife.
If you're visiting in late spring, you can enjoy the juxtaposition of lush, grassy slopes against rocky outcrops as you wander along the coastal path. Being an Area of Special Scientific Interest, there is plenty of unique flora to be discovered.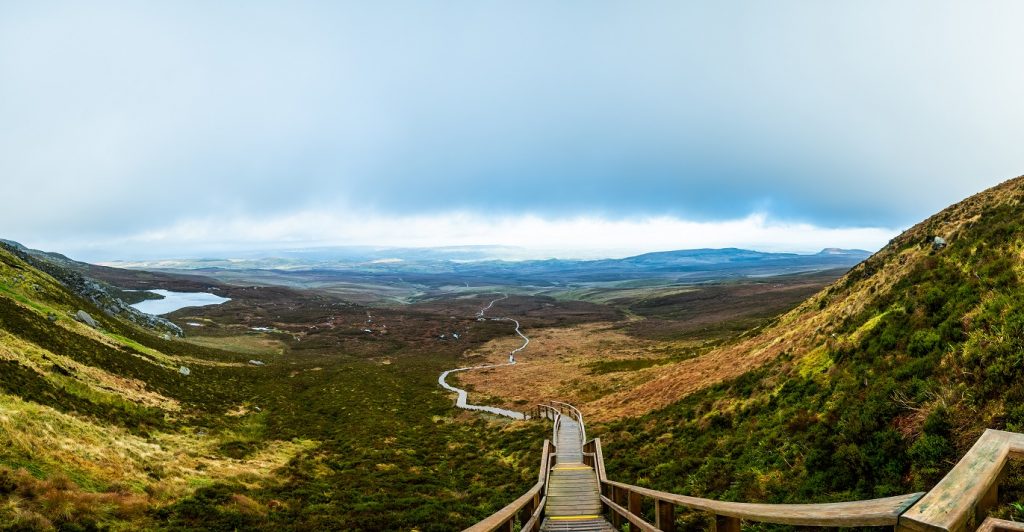 Known for its picturesque Lakelands, Fermanagh is a haven of natural wonders, filled with adventure. You can cycle the lakes, island-hop by canoe or choose to relax on their unspoilt shores.
Whilst visiting, you must stop by the Marble Arch Caves. Recognised by UNESCO for its important geological heritage, they became the world's first Global Geopark in 2008. It is host to one of Europe's most impressive caves, which allows visitors to journey into a fascinating underworld of rivers, passages, waterfalls, and deep chambers, a truly unique place to explore.
And in typical Northern Irish style, you will be welcomed by mysterious legends of the land, whilst enjoying a pint of Guinness in a traditional Irish pub.
The Sperrin Mountains, Tyrone and Derry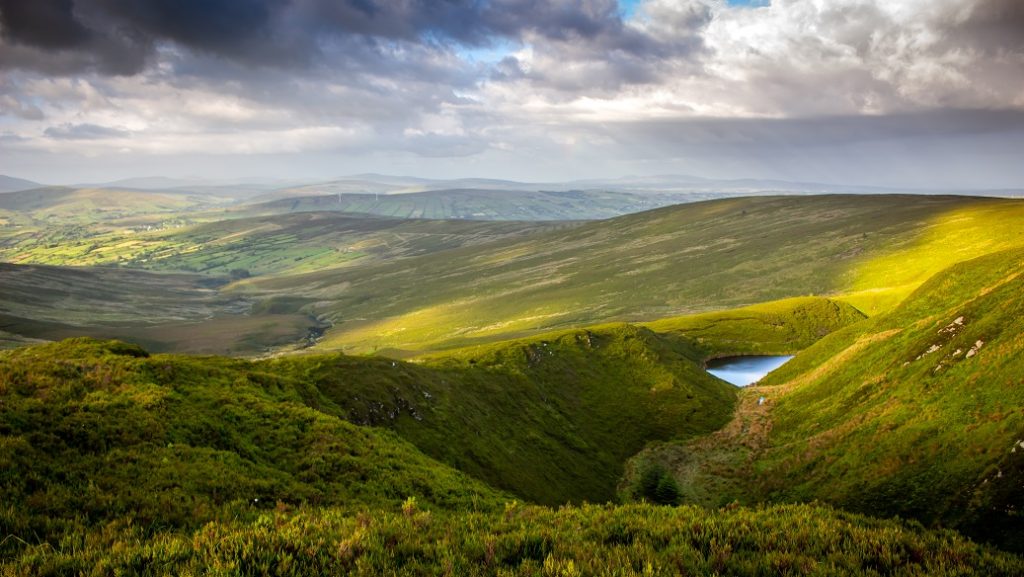 Bordering the counties of Tyrone and Derry and spanning for 40 miles, the Sperrin Mountains can best be described as untouched, wild, and breath-taking. Another walker's paradise, you can expect an array of wildlife, varying terrain, calm valleys, and miles of stunning mountains.
One of Northern Ireland's most mysterious sites, Beaghmore Stone Circles is worth a visit if you're walking the Sperrin Mountains. In 1945, seven stone circles were uncovered along the southern edge of the Sperrins. It is unknown what this fascinating Bronze Age stonework was intended for, but they are believed to have been erected to try restoring fertility to the soil. And even today, you can see they accurately correlate to the movement of the sun, moon, and stars.
Part of ABI life is being able to enjoy the great outdoors whilst taking a break from modern life. Northern Ireland offers just that, with spectacular views, beaches, nature, it can be a peaceful retreat. Something we no longer take for granted and will begin to enjoy again very soon, from the comfort of our ABI home.
Follow us on Facebook, Twitter and Instagram for more staycation inspiration.